Knirk and Gustafson design model
Jump to navigation
Jump to search
Definition
The Knirk and Gustafons design method and model is prescriptive stage model for instructional designers.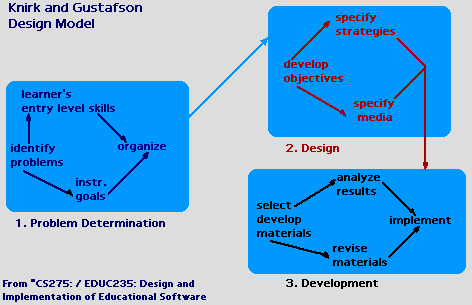 The Model
Knirk and Gustafson (1986) designed three stage process which includes problem determination, design and development.
The problem determination stage includes identification of the problem, definition of the pedagogical goals and identification of what the learners can do (knowledge, skills, learning styles, affect, etc.)
The design stage includes developing objectives and specifying strategies.
The development stage includes development of materials, testing and revision.
Links
References
---
Content of this article has been taken from EduTechWiki (en) or EduTechWiki (fr) at the date indicated in the history. DKS was the main founder and main contributor of EduTechWiki. If you cite this page you also must cite and credit EduTechWiki, according to the CC BY-NC-SA license. View the pageinfo-toolboxlink for this article.